Who we are
Columbarium 
Arrangements of cemeteries, cinerary spaces and structures for ballot boxes for municipalities
The No. 1 funeral home in Switzerland
In Switzerland, more than 150 cemeteries, Jardins du Souvenir and columbariums equipped by us
With new and highly aesthetic models, with careful design, our catalog of models, rich in novelties, for scalable, fully modular projects, is an essential support for good equipment, allowing you to better represent the various and numerous possibilities of such systems, their perfect integration within your cemetery and their low footprint.
Note in passing that each of these products is made entirely of solid granite, resistant and guaranteeing longevity!
Because these "boxes" will be used again, even at the end of a concession of 20, 25 or 30 years, and that on numerous occasions, not to say a century during, without particular expenses, it is imperative that '' they are created in noble materials, worthy, very easy to maintain and long lasting, and this, for 2 to 3 generations of urns.
In order to better understand the many advantages of the models offered, we are happy to meet you, in order to work out together, on site, a cinerary space adapted to your wishes and to your cemetery, on the basis of your ideas and / or those of your colleagues from the municipal / municipal council and / or the ad hoc committee.
The outcome and success of your project is based on several criteria: quality support, local service and follow-up at each stage of your reflection. Without delay, ask us, too, for an interview at your convenience, as well as our best price offer for the supply of the most aesthetic structures, relating to the development of a cinerary space within your cemetery, to its extension, or even its bringing into conformity, its decommissioning, its rehabilitation, this, in many variations of shapes, sizes, capacities, adapted to the population of your locality, to the number of its inhabitants, but especially to the desires and the needs of bereaved families, with the dignity and respect required of these types of sepulcher.
In order to allow yourself to do something beautiful and good, opt for a simple, economical solution, while prioritizing quality!
To date, more than 150 cemeteries equipped by us throughout Switzerland, this is the success achieved to date by our PRESTIGE model, a revolutionary system, promised an even more promising future, which can satisfy the smallest municipality of less than 100 inhabitants to that of more than 100,000 souls.
Paying homage to the deceased by creating for them a cinerary monument, in solid granite, the most aesthetic, isn't it paying them the most beautiful tribute?, All adapted to your budget, with in sus, very easy maintenance, free of charge, for decades.
Make your cemetery a park, in which your citizens will have fun walking there and let us anticipate together a possible future new federal regulation which aims to prohibit the dispersion of ashes in nature for the benefit of the cemetery, official burial place of bodies and ashes, as is already the case in Germany and France.
In addition, for nature and for future generations, we are also sensitive and perpetually in search of manufacturing processes that are ever more respectful of the environment (longevity of our products, recovery of granite falls, rainwater recovery, recycling,…).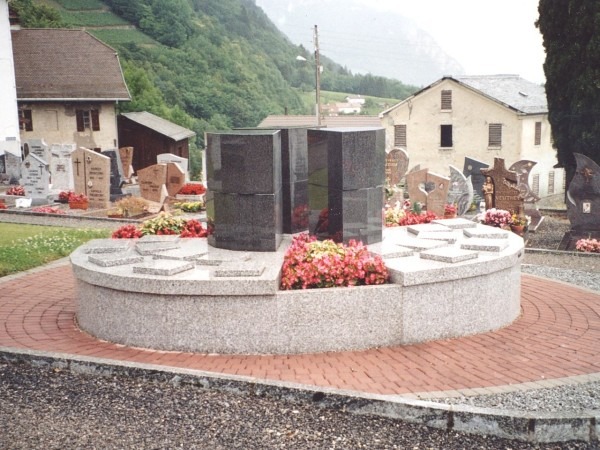 Based on your wishes or those of your loved ones, we will seek and find together the solution that suits you, within your means and at very competitive prices. We will also offer you free of charge our creativity for the most personalized achievements.
From the simplest to the most complicated, we will create what you want, at the best market price, so that you too can do something beautiful and worthy, on time .
We remain entirely at your disposal for any other additional information and awaiting your call and looking forward to meeting you, we ask you to accept our cordial greetings.
See you soon !